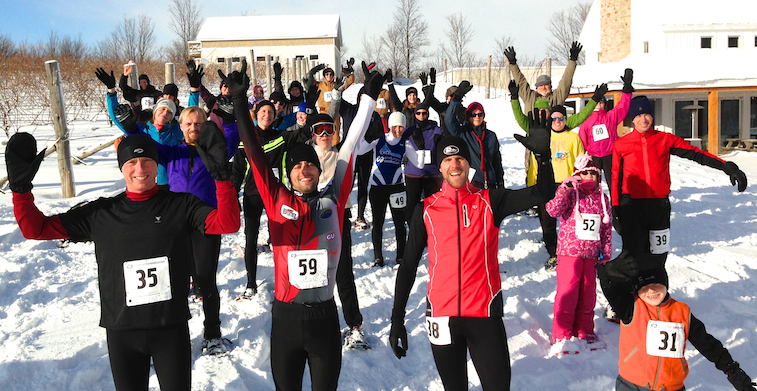 3rd Annual Runaway Hen Snowshoe Scamper
Saturday, February 1, 2014
Overlooking West Grand Traverse Bay in southeastern Leelanau County, Crain Hill Vineyards sit on 45 acres of rolling terrain. Grab your snowshoes and enjoy 5km race or a non-competitive stroll through the scenic rolling hills of the Brengman Brothers Crain Hill Vineyards. Wine and hot beverages will be available for purchase post-race in the tasting room, with sweeping views of the vineyards. This is a family-friendly event, and all ages are encouraged to participate!
Click Here For All The Details
What distances are offered?
There are two options at this year's event: 1) A 5km (3.1 miles) snowshoe race (run or walk), 2) An non-competitive, stroll through the vineyard on snowshoes. Take as long as you want, stroll as much as you want! Both options take participants through the scenic rolling hills of the Brengman Brothers Crain Hill Vineyards in Traverse City, MI.me
When does the event happen?
The event takes place on Saturday, February 1, 2014. The starting gun will sound at 12:00 noon for the race, and anyone that wants to just stroll can start any time between 12:45 p.m. and 4:00 p.m. Packet pick up and late registration will be posted soon. 
Schedule of Events
Saturday, February 1, 2014
10:00-11:45 am – Registration and packet pick up at Brengman Brothers Crain Hill Vineyards
12:00 noon – 5k race starts
12:45 pm-4:00 pm  – Non-competitive vineyard stroll, start anytime, stroll as long as you want.
1:00 pm (approximate) – 5k awards ceremony
Where does the race take place?
 The event takes place at 
Brengman Brothers Crain Hill Vineyards
, located at 9720 S. Center Highway, Traverse City, MI 49684. It's about a ten-minute drive north of downtown Traverse City in southern Leelanau County.
How much does it cost to register?
Prices are listed in the column to the left. We never charge processing fees, so when we say $30, we mean it. You'll notice that prices increase as the race date nears. We would LOVE for every athlete to register for the lowest possible price by registering as early as possible; increasing prices allow us to compensate for the cost of securing timing services, race awards, and food without knowing exact participation. 
What do I get for signing up?
 Registration includes a Runaway Hen Snowshoe Scamper wine glass (register early to be guaranteed your glass!), post-race grub and guzzle, and the satisfaction of knowing you're better than the lazy schlubs that didn't wake up until 11 am on race day. Your entry fee also covers the permit fees, insurance, and other costs associated with keeping our racers safe and happy. Along with those tangible benefits, we believe that every Endurance Evolution race offers something more than the typical endurance event in the way of customer service and professionalism. You can read more about our philosophies and our policies in our About Us section.
What do I win?
The overall male and female winners of the 5km race receive a bottle of Crain Hill Vineyards Wine (21+ only), plus free entry into next year's race. The top individual in each age group also receive an award. 

Endurance Evolution is an endurance lifestyle company that organizes running races & triathlons, offers event management and timing services, and promotes endurance athletics and a healthy lifestyle.

Latest posts by Endurance Evolution (see all)