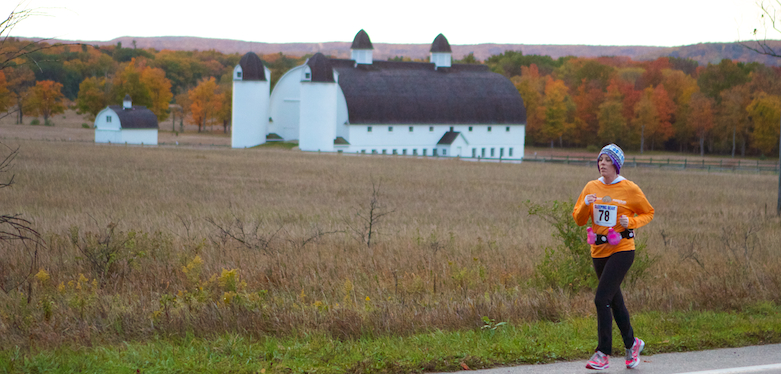 3rd Annual Sleeping Bear Marathon & Half Marathon
Sunday, October 5, 2014
Join us for a scenic marathon and half marathon in the heart of the Sleeping Bear Dunes National Lakeshore. Both races start and finish in Empire, MI. The out-and-back marathon course will take runners by the "Dune Climb", past Little Glen Lake, and through the village of Glen Arbor with breathtaking views of the Manitou Islands and Sleeping Bear Dunes along the way. The half marathon will follow the same course as the marathon, turning around at the 6.55 mile mark. At the peak of fall color season, the tree-lined course will be one that both runners and spectators won't soon forget. See why Good Morning America calls this area one of the most beautiful in the United States.
What distances are offered?
When does the race happen?
The race takes place on Sunday, October 5, 2014. The marathon will start at 7:30 a.m. and the half marathon at 8:30 a.m.
Schedule of Events
Saturday, October 4, 2014
4:00-7:00 pm Packet pick up (Johnson Park)
Sunday, October 5, 2014
Parking is located at Johnson Park
6:30-8:00 am – Packet pick & late registration up at Johnson Park (click here for map)
7:30 am – Marathon start at Johnson Park*
8:30 am – Half Marathon start at Johnson Park
11:15 am (approximate) – Overall winner award ceremony / Age group awards available at Johnson Park
1:30 pm – Course closes
*The time limit for the marathon will be 6 hours. The course will close for all races at 1:30 p.m.
Where does the race take place?
The race start and finish is in Empire, Michigan, about 24 miles (35 minute drive) west of downtown Traverse City, MI. 
How much does it cost to register?
Prices are listed in the column to the left. We never charge processing fees, so when we say $75, we mean it. You'll notice that prices increase as the race date nears. We would LOVE for every athlete to register for the lowest possible price by registering as early as possible; increasing prices allow us to compensate for the cost of securing timing services, race shirts, and food without knowing exact participation. 
What do I get for signing up?
Registration includes a race t-shirt, chip-timed results, post-race grub and guzzle, and the satisfaction of knowing you're better than the lazy schlubs that didn't wake up until 11 am on race day. Marathon and half marathon finishers will also receive a finisher's medal. Your entry fee also covers the permit fees, medical and police support, volunteer swag and food, and various other expenses that come with putting hundreds of athletes on public roads.
Along with those tangible benefits, we believe that every Endurance Evolution race offers something more than the typical endurance event in the way of customer service and professionalism. You can read more about our philosophies and our policies in our About Us section.
What kind of food and drink will be on the course?
There will be six aid stations on the marathon course. Aid stations are located approximately every two miles and each will have a portable toilet. Stations will be stocked with water and Gatorade, with Gu Energy Gel at select stations.  Here's the complete rundown of the stations:
Half Marathon
Mile 1.7
Mile 3.9
Mile 5.7 (Gu Energy Gel)
Mile 7.2 (Gu Energy Gel)
Mile 9.0
Mile 11.2
Marathon
Mile 1.7
Mile 3.9
Mile 5.7 (Gu Energy Gel)
Mile 7.7
Mile 9.6
Mile 11.5 (Gu Energy Gel)
Mile 14.4 (Gu Energy Gel)
Mile 16.3
Mile 18.2
Mile 20.1 (Gu Energy Gel)
Mile 22.0
Mile 24.2
What do I win?
The overall male and female winners of the marathon and half marathon races receive an award plus free entry into next year's race. The top three individuals in each age group also receive an award. 

USA Track & Field Certified Courses MI12061SH, MI12062SH (Boston Marathon Qualifier)